E-COMMERCE & FUNDRAISING SOLUTIONS
Want to sell your branded products online, but don't know where to begin? Whether you're raising money for a great cause or just want to sell merch online, we're here to help! You handle the promotion, and we will handle everything else.
YOUR PRODUCTS,
OUR STOREFRONT
Managing an online store can be stressful. Let Press & Release do it for you! Coordinating large group orders can be a huge headache. Paper order forms? No thank you! Capture sales with our easy-to-use online stores, perfect for schools, sports teams, staff apparel, events, fundraising, and more.
No matter what you're raising funds for, Press & Release offers one-stop setup and management for online buying. Make it easy for donors to give online and get great custom products in the process!
You get complete control, including the portion of each sale that goes towards your fundraiser. Best of all, we offer a number of options for handling fulfillment. So you can be as hands-off as you want to be while still supporting your favorite cause.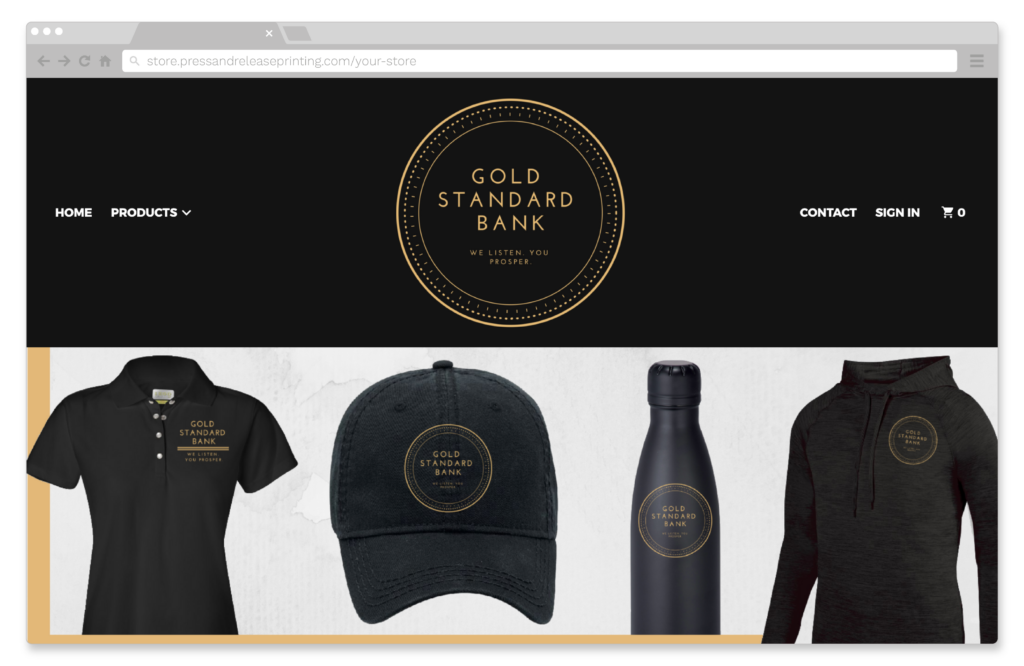 E-COMMERCE
Maybe raising money isn't your goal. If you need a platform to sell school spiritwear, company swag, or employee uniforms, we're here to make it easy. We can streamline the entire ordering and fulfillment process, saving you time, money, and frustration. We guarantee both you and your audience will love the simplicity and easy to use features.
It's important that your online store is consistent with your brand standards. We will ensure the store's theme and fonts are in line with your brand. Our intuitive builder allows us to quickly build webstores with the use of customizable modules including sliders, countdown clocks, calls to action, and more. These webstores can say as much or as little as you want with the custom copy, photos, and even videos. Under your direction, we can create the right shopping experience for your customers.
FULFILLMENT
We offer three options for fulfilling orders. Choose the one that best fits your needs.
Basic: All items ordered are shipped together (sorted by product, color, and size) to you, with a printed breakdown of orders. You are responsible for sorting and distributing orders.
Individual Order Packing: All items are separated into individual orders. All orders are shipped to you. You are responsible for distributing orders.
Drop Shipping: All orders are individually packed and shipped to the customer. You sit back and relax!
Good business starts with a genuine, sincere connection.
Use the form below or connect with us via social media.