Screen printing and heat press application each have their own unique pros and cons, depending on the specifics of your order. Screen printing is the most popular decoration method, especially for bulk orders. However, heat press transfers are better suited for certain applications, like on hats.
We'll explain the benefits of each so you can determine which is the best decoration method for your project.
Screen Printing vs. Heat Press
Both methods can produce high-quality products at an affordable price. So, the difference comes down more to your design and the garment you're printing on.

Screen Printing
Screen printing is a method of printing graphics on a garment by pressing ink through a screen. The mesh screen works much like a stencil, where it blocks ink in some areas to create the desired design on the garment.
The number of screens required to print your order will depend on the number of colors in the design. The more colors in the design, the more screens are used, as each color requires its own screen.
Advantages of Screen Printing
Screen printing is an entirely hands-on process. We use machines to hold things in place and lasers to perfectly align design elements, but the process is human-driven and controlled. The ink colors are custom-mixed to attain the exact shade you want and applied with care.
Screen printing is ideal for simpler artwork with 1-3 ink colors or large quantity orders. This method typically has higher bulk discounts than heat press transfers. Therefore, screen printing is the more cost-efficient option for high quantities.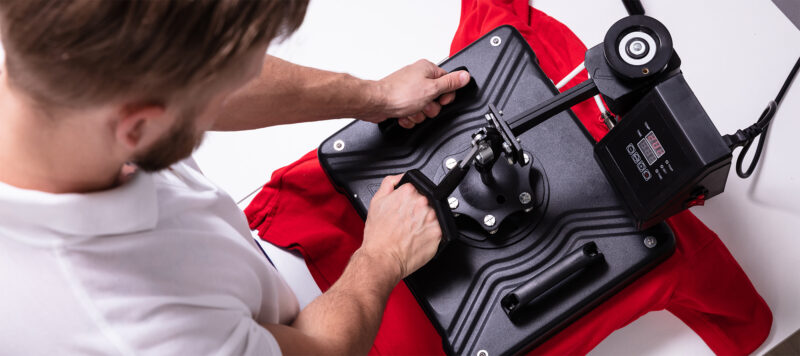 Heat Press Transfers
When people think of heat transfers, they often think of iron-on decals you can apply as DIY projects. However, the professional version is much more involved and uses the highest quality transfers and machinery.
There is even a big difference in quality between the hobbyist who runs a side printing business from his garage and a full-scale custom merch company. That is why it's always best to use a reputable company for heat transfers, as you really do pay for what you get in this scenario.
With professional applications, your design is placed on a special film, known as a transfer, that is placed on top of your garment. A commercial heat press then applies heat to the film, which transfers the ink from the film to your garment.
There are 3 types of heat transfers, each offering a different level of quality:
vinyl transfer (lower quality): mostly commonly used for names and numbers in athletic wear
screen printed heat transfer (higher quality): used for few-color designs
digital transfer (highest quality): used for full-color designs
Advantages of Heat Press
The heat press method is ideal for oddly-shaped garments, such as hats, backpacks, and fanny packs. It allows you to add logos in areas or on garments that otherwise present a challenge for direct screen printing.
Bulk discounts aren't typically as high for heat transfers as they are for screen printing because transfers typically require 7 to 10 seconds of heat plus the time it takes to load an item on the heat press. However, print shops typically do offer increasing discounts as the order quantity increases.
This is certainly true here at Press & Release Printing. We offer a scaled discount based on quantity for both application methods.
Deciding Between Screen Printing vs. Heat Press
If you're still unsure which application is best for your project, contact us for help. Our account managers can help you select the best print method and help with your design and product selection.
Or, if you now know which method is best for your project, you can order online today.
Read Next: The Difference Between Spot Color & Process Printin