Events are among the most effective ways for businesses and nonprofits to promote their brand or message. By connecting directly with customers, you improve brand loyalty while increasing sales. Though current social-distancing requirements change the way events must be held, you can still take advantage of the high-value experiential marketing.
The Importance of Events and Event Marketing
Events provide a way for your customers to interact with each other and, more importantly, with your brand. It also gives you an opportunity to connect with and better understand your customer, along with the following benefits.
Increase Sales
The point of marketing is to sell your product or service. Events offer a platform to boost sales while establishing trust with your clientele.
Increase Brand Awareness and Affinity
Events attract more attention than traditional advertising methods and other marketing ploys. You're more likely to catch a potential customer's eye because you're offering more than just a product; you're offering an experience. An experience leads to an emotional connection, which is much more likely to produce a loyal customer. To remind customers of that connection, you can offer branded promotional products they can take home.
Grow Leads and Your Database
An event is a great way to build your database and generate new leads. Even if the attendees do not become a loyal customer at the event, you may be able to add them to your database and grow a relationship over time. Think of it as planting a seed that blossoms into a happy customer.

How to Hold Safe Social Events
With current health guidelines, we must rethink how events are held in order to follow local regulations and protect the health of attendees. Here are our suggestions for holding successful socially-distanced events:
Utilize a large outdoor area, if possible
Stagger activities to control the number of participants in a given area at a time
Offer virtual options, such as social media live streams or a zoom event to coincide for those attendees that feel safer to participate from home
Limit the number of attendees to an appropriate number based on the venue's size to ensure they can adequately distance themselves from one another
If seating is required, set up the furniture ahead of time that follows proper distance rules. Or, better yet, have attendees bring their own seating to place in clearly marked spots.
Provide safety equipment such as masks or face shields to attendees. This is a great opportunity to promote your brand with customized cloth masks with your logo
Implement health screening such as temperature checks and question screening at the entrance.
Keep background noise minimal so that people can have conversations comfortably from a distance.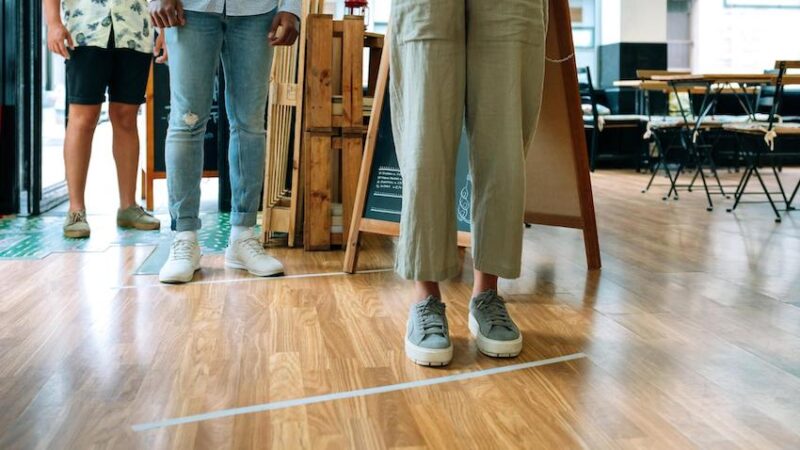 Examples of Socially Distant Events
Check out these event ideas that have successfully merged in-person, human interaction, and social distancing safety protocols:
Drive-in Style Concerts: Live Nation put on local outdoor concerts featuring comedians and live bands at the Citizen Bank Park parking lot. Attendees did not leave their vehicle but could still purchase merchandise. Press & Release printed merch for a featured band, called Lotus, including t-shirts, hoodies, and embroidered jackets featuring the various artists. Additional merch options at a similar event could include masks, scarves, and hats.
Outdoor Bike Rides: Food Moxie hosted an Urban Bike Ride with staggered ride times to benefit the children, parents, and students who learn and teach about growing, cooking, and eating nutritious food. For this event, we printed the event t-shirts worn by all attendees. The event logo was featured on the front, with event sponsors listed on the back– a very popular and effective layout for sponsored events.
Trash Clean-Up: A not-for-profit event called the Annual Riverkeeper Sweep covered more than 100 riverfront miles to keep the Hudson River and its tributaries clean. The t-shirts used the same great format of event logo on front with sponsors on the back. Printed face masks, hats, and hoodies could be excellent additions to promote a similar event.
Branded Promotional Products, Philadelphia
Make the most of your upcoming event with promotional products! Offering the best branded promotional products Philadelphia has to offer, Press & Release Printing can help with everything from design to mock-ups to printing.
Contact Us today to learn more about our Philly printing company.
Read Next: Diversify Your Revenue & Boost Brand Visibility with Promotional Products